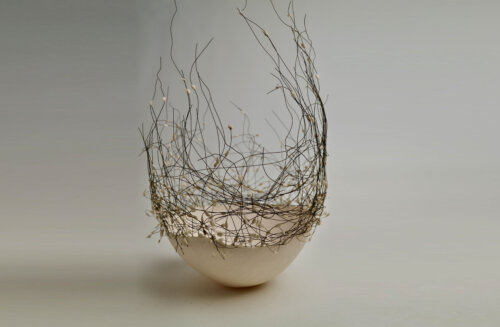 Breath and Silhouette
Breath and Silhouette is a shared exhibition of contemporary work by Ceramic artist Orla Kaminska and Jerpoint Glass studio designers and makers. Orla Kaminska is well known for her diverse portfolio and her public architectural ceramics. Orla's recent studio work has been inspired by the Autumnal and Winter cycles of plant forms,with themes of decomposition and erosion expressed by combining fine wire and porcelain, creating translucent, skeletal and fragile structures. Jerpoint have been creating installation and sculptural pieces using varying glass techniques from fusing and slumping to hot blown glass. A synergy of sand and clay.
The studio artist, makers and designers at Jerpoint are joining with, critically acclaimed and award winning ceramic artist Orla Kaminska in the glass attic gallery for this show bringing together the strength and fragility, the solid and the reflective the light and shadow of sand and clay.